Setup Your Own "Podcast"
and You'll Have Your Own
"Internet Radio Show" Broadcasting Within the Next 12-24 Hours
"Can I Show You How, In Just a Few Short Weeks,
I Was Able to
Climb the Rankings of iTunes


and Outrank Long-Time Podcasters
Including John C. Maxwell, Seth Godin,
Michael Stelzner, Amy Porterfield & More?"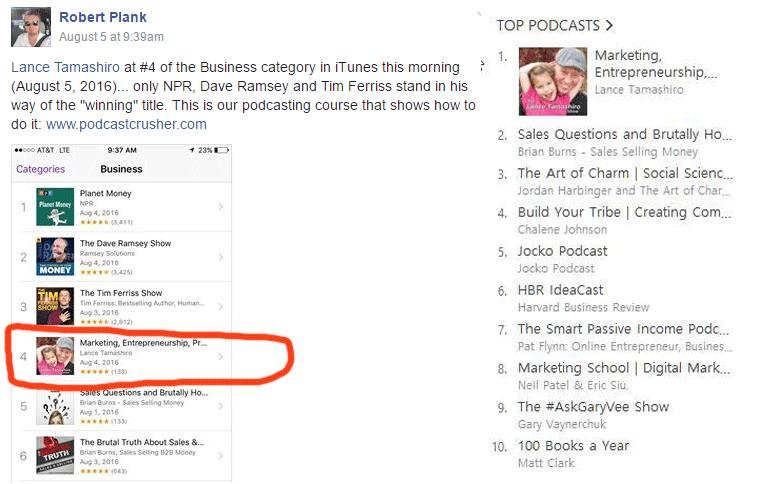 From: Robert Plank and Lance Tamashiro
Date & Time: Thursday 8:30 am
RE: Become on online celebrity with your internet radio show
And the best part is:
I got others to create the content for me,
I didn't need any fancy audio recording equipment,
and I did it all in just a few minutes a day...
There's a secret UNTAPPED RESOURCE on the internet that's growing by leaps and bounds. Authors, speakers and trainers hang out there. Buyers look there for authority figures. People who market in this area of the internet make sales.
What am I talking about? Setting up your very own internet radio show on iTunes, as well as other "podcasting directories" around the internet.
Recently -- Showtime, CBS, NBC, BBC, CNBC, ESPN, and Disney have all launched their own "internet podcasts" where their biggest fans and buyers can subscribe to free audio shows on their computer, iPhone, or other smartphone.
What a lot of people don't know is that...
Setting up a podcast (and submitting episodes) costs zero money
Creating new content costs nothing and only takes a few minutes
You can now be on a level playing field with these various celebrities
You came to this page because you want several things:
Traffic, authority, credibility, recognition, and sales!
You also don't want to wait a long time to get those things, you don't want to spend a lot of money on it, and you don't want to work too hard to get it.
Luckily, podcasting is the PERFECT SOLUTION to get -- and stay -- inside your customers' heads. It takes almost no time or effort to create a new podcast episode -- just a few minutes, when we show you how!
You no longer have to write long blog posts, submit hundreds of articles, or sacrifice thousands of hours writing (and editing) a print book.
Just click a button, record, save, and upload, and now anyone subscribed to your podcast (or anyone who visits your site) can listen to your latest episode. Pretty cool and simple.
BIG PROBLEM:
How Will You Figure Out...?
How do I get my podcast syndicated?
How often should I update my podcast?
How do I make my podcast go viral?
Where do I host my podcast?
(hint: not on BlogTalkRadio, and not on Amazon S3)
How do I make money with podcasting?
How to get your podcast featured in the iTunes store?
What podcasting directories can I submit to?
How do I prevent pod-rot?
What's the fastest way to attract new listeners?
There are about 1,001 ways to mess up your podcast (especially if you miss one step or use one wrong tool) and believe me, I've made all of them for you!
Let me explain. When I recorded my first podcast, it was actually the wrong length (it's possible for your podcast to last TOO LONG).
I hosted it in the wrong place. I messed up the various settings so that iTunes did not display the podcast properly.
How Many Email Subscribers, Product Sales,
Book Sales, Blog Readers & Social Media Followers
Could You Get If You Were On Page One
(In "Marketing" or Any Other Category)
Of iTunes Like I Am?
Podcasting doesn't have to be difficult at all, as long as you avoid the pitfalls that I'm about to show you...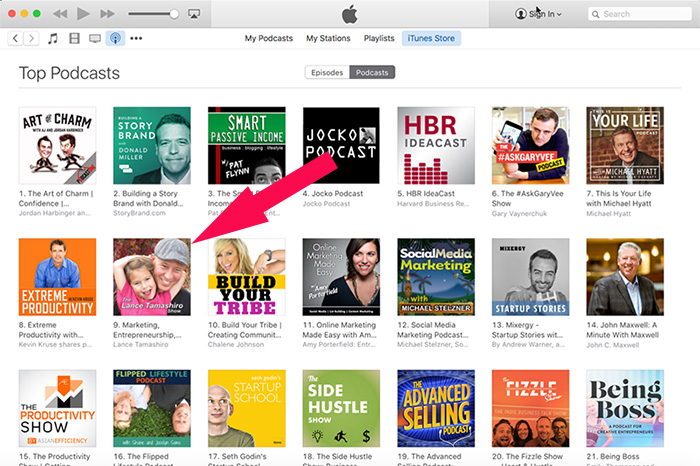 As long as you have a guide who's done it several times before you, perfected it, and can easily show you how to repeat the process any time you want.
Introducing...

Podcast Crusher 2.0
(Updated for 2019)
If you would like the following for your existing or future online business:
"Become An Instant Internet Celebrity,
Gain Massive Traffic
And Partner With Apple iTunes For Free"
Whenever you have a few minutes free to talk to your subscribers, you can publish a podcast episode. Whenever you want an extra 1000 clicks or 100 new subscribers today, publish a new podcast episode... just go through the easy steps that I provide you, and it's done:
High quality, targeted traffic with zero competition
Instant credibility so you are instantly recognized with leaders in your niche
Get listed on every iPhone and Android device in the next few minutes
Works in any niche and you can publish an unlimited number of shows
Access to over 600 million potential fans and customers
"An Effective,
But Easy To Implement System"

I absolutely loved the training. I really need this for my business and as a way to drive traffic.

I also know that if I'm to be successful... I have to get VERY COMFORTABLE speaking without that awkward feeling.

Thank you very much for showing us an effective, but easy to implement system.

David Bibby
Palm Bay, Florida
"There Is No Excuse"

I really enjoy the fact that you guys offer information and tools and that you actually expect us to use them. There is really no excuse why anyone cannot have their own podcast as your step-by-step method shows it can be today.

Thanks for your over the shoulder approach, you guys are approachable experts and not some out of reach gurus.

Thanks for the training I look forward to incorporate it in my business as well as for my personal use, with my children (we are gonna have fun!) and in our ministry.

Ann Moore
MomInternetShow.com
"This Is A Great Way To
Commit To Taking Action"

I have really enjoyed the hands on aspect of this training. The step-by-step direction and over-the-shoulder set up has been very good.

I also like the challenges. This is a great way to commit to taking action. Putting it on the site publicly is great accountability.

Thank you for the in depth training.

Kimberlee Wilkes
HomeschoolingWithKimberlee.com/fbpage
"I Sincerely Give It 5 Stars!"

Podcast Crusher is the bomb!! There has not been a class with this much step by step instruction in a long time! Robert and Lance not only tell you exactly how to build your credibility and following with your own podcast show, but they show you all the ins and outs of setting it up quick and easy. Watch them do it, then take action and do it yourself!

I love all the extra hints and ideas to really stand out so you are not just another "me too." The training on getting subscriber engagement was super helpful and I am ready to dive in and take action. This course is a must and a no-brainer for any entrepreneur, no matter what the niche. The content and the community support at Podcast Crusher is really outstanding! I sincerely give it 5 stars!

Thank you Robert! Thank you Lance!

Helen Raptoplous
HelenRappyShow.com
"I Finally Have All The Pieces Together"

Flat out amazing with great direction! Take action with these guys and you will not fail.

I finally have all the pieces together to start my Podcast and with Podcast Crusher I will do it the right way the first time.

Samuel Heins
Phoenix, Arizona
"I'm Always Impressed By Your Trainings"

AMAZING as usual! You guys absolutely rock!

I'm always impressed by your trainings. Always worth every penny. Would totally recommend to anyone who wants to build their expert platform.

Thank you!

Kimberly Sheridan
KimberlySheridanShow.com
"Brilliant!"

What I love most: the specificity telling us what we'll be doing on each module the tools that will be needed showing us step-by-step.

Actually doing as we watch reviewing what we just learned and then tying each new module to those already done having us commit to action by action & when they will be done... brilliant!

Elsom Eldridge
Orlando, Florida
Watch over our shoulders as we show you step-by-step the entire system we use to build credibility, drive traffic and make sales from scratch...
Module 1:
Use Our 5 Minute Podcasting Technique to Get Yourself Listed on iTunes, Next to Your Favorite Internet Celebrities, When You "
Setup & Publish

" Your Podcast
"I Will Save Loads Of Time By Having A Plan"

I appreciate the amount of training provided today. Extremely valuable and quite the bargain.

I will need to gather all the tools and get busy producing. I know have all the info needed to produce a quality podcast and also will save loads of time by having a plan.

Gregory Doig
Beaver Island, Michigan, US
Setup all the pieces so you're listed quickly on iTunes (and other directories) without any problem
Recording, uploading, submitting: all laid out in simple, fast and easy to understand directions -- technical issues are no longer a problem!
See the start to finish process as we setup a REAL internet podcast right in front of you, to follow along!
You'll have your first podcast episode in 5 minutes...
"Never Received So Much Value"

I sincerely tell you that I have NEVER received so much value from any purchase I have made on-line. You guys have over-delivered by a factor of at least 1000.

Benson McClure
Charlotte, North Carolina, USA
Module 2:
Produce a Professional Podcast, Rank for Any Keyword, Product, or Authority Figure in iTunes and Google Just As Soon As You Submit Your "
Next Episode

"
"You've Created An Amazing,
High Value Course"

You've created an amazing, high value course, rich in its multi-dimensionality and immediate practical usefulness.

Complete in every sense: rationale, tools & equipment, set-up and leveraging for optimal exposure in multiple marketing channels and monetization.

While I kept up with more than I expected during the rapid-fire course because of the clear directions and demonstrations, it should be straightforward to go back & follow the videos. Even for a non-techie like me.

Donna Kim-Brand
DonnaKimBrandShow.com
Make it professional: graphics & music
How to easily crank out a 20 minute session anytime you want...
So easy, we'll create and publish episode #2 together, while we're waiting for iTunes approval!
Keyword targeting: you're now be able to rank for anything you want
"You've Made It Easy For An Average Person"

Robert and Lance, this course is unbelievable!

Thank you for your generosity in sharing this incredibly valuable training with us.

You've taken a big scary topic (podcasting technology and strategies) and made it easy for an average person to get a podcast submitted to iTunes within an hour of beginning your course.

Dvorah Lansky
Hartford, Connecticut, USA
Module 3:
Tap into the Power of Social Media,
Expand Your Listener Base, and
Get People to Listen to You Using These
Enhanced "
Marketing & Traffic

" Formulas
"Now I Have The Complete Plan!"

This training was outstanding! I've wanted to get into podcasting for a while and never really could figure out how to go about it.

Now I have the complete plan! Thanks so much, Lance and Robert!

I really appreciated all your instructions about getting the word out and marketing those podcasts (and how to monetize them too!)

Thanks so much!

Elisabeth Kuhn
Richmond, Virginia
Most people who create podcasts are audio nerds -- don't be one of them, you'll make more money!
Crank out episode after episode, no one really listens, no real feedback, it's just "a hobby"
You want a BUSINESS... credibility tool, extra sales
Social media, listener engagement, feedback
Make sure people listen and that you're delivering what they want, not just what you "think" they want!
Analytics: discover WHERE and WHO your people are
Module 4:
Make Money Every Time You Hit the Record Button With Interviews, Sponsorships, Tutorials and Pitches With These "
Monetization

" Strategies
You Can Start Using Today
"You Guys Overdelivered On This Product!"

This was an awesome, hand-on, step-by-step, actionable, A to Z training. No detail was left out. Not only did you tell what to do, but you then demonstrated it so that no one would be left to try to figure any step on their own.

I can honestly say, if action is not taken on this information, it's simply because the info was not put into action.

This is my first training with you guys but you now have a fan for life. Totally overdelivered and I feel confident that I can confidently move forward in starting my own podcast.

You guys overdelivered on this product. You got a follower for life from me. Awesome stuff!!

Dana Sanders
Woodbridge, Virginia
Sell without selling on a podcast
Interviews (easy content & easy sales)
Obtain new listeners for 10 cents each (or less)
Affiliate products and sponsors
Join "Podcast Crusher 2.0"
and You'll Have This Today:

your own podcast on iTunes
multiple audios on your blog
major search engine rankings
traffic from 20+ sources

podcast Facebook fan page
professional podcast artwork
intro & outro music
podcasting domain name
You'll also have a way to automatically build your audience and make money from that audience -- so you'll want to (easily) create more and more episodes!
See How I'm Ranked in iTunes
Alongside Famous Marketers Like
Cliff Ravenscraft & Pat Flynn...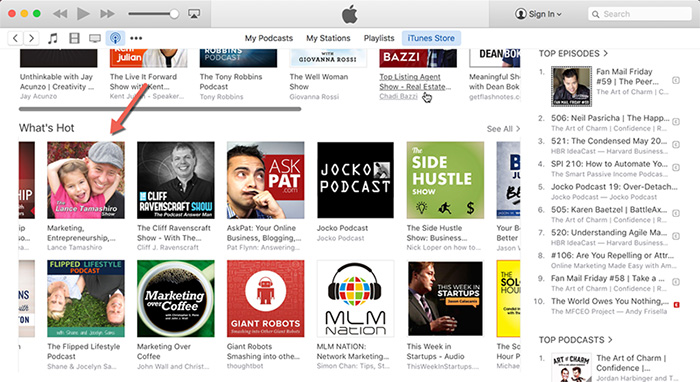 Here's Everything You'll Get Instantly,
As Soon As You Join the
"Podcast Crusher 2.0"
Training Course & Community Right Now,
Within the Next Few Minutes...
Podcast Crusher 2.0: 4 Modules
Module 1: Five Minute Podcasting Formula
Recording formula & publishing to iTunes
$497.00
Module 2: Podcast Content Creation
Artwork, stock music, and more
$497.00
Module 3: Podcast Ranking
How to climb the ranks in iTunes and Google Play
$497.00
Module 4: Podcast Promotion
Credibility, pre-selling, sponsors, affiliate products, guest shows
$497.00
Included Today
Challenges for Each Module
$497.00
Video & Audio Training: Available 24 hours a day (instant access to everything, no drip content)
$197.00
Transcripts: digitally access all reports & cheatsheets
$297.00
Checklists: repeat the process anytime
$297.00
Top Secret "Podcast Traffic Exchange"
$297.00
Total Real World Value Today:


$3,573.00
Your Price Today:
Just $147
And It Comes with This 30-Day
"No Questions Asked" Priority Guarantee!
If you can't setup your online radio show or podcast, within the next 30 days, I demand you fire me from your business and you get your refund. Just contact us and we'll send your money back immediately.
But I'm confident you'll stay in, you'll implement our systems, and you'll send us a testimonial telling us how much more you've accomplished after finding us and taking our training.
Regular Price: $297.00
Your Price Today: Just $147
Click the button below and you'll be sent to a PayPal checkout screen, where you can either choose "Pay with my PayPal account" or "Pay with an online banking account, debit or credit card."
After your successful payment, you'll be sent to a registration page where you'll have instant, 24 hour a day lifetime access to the Podcast Crusher training materials.
Single Payment
Entire course delivered today
One payment of $147 today
No further payments




30 day money back guarantee
5 Payments
Entire course delivered today
One payment of $29.95 today
$29.95 in 30 days
$29.95 in 60 days
$29.95 in 90 days
$29.95 in 120 days
30 day money back guarantee
P.S. Podcast Crusher is a single payment membership site. You will need the ability to play videos on your browser (free and included with most browsers).
P.P.S. After signing up, your account will be instantly activated and you will have access to all training videos in the next few minutes.